One of the more thought provoking books I've read in the last year.
Publishers Weekly
The "Lucifer Principle" is freelance journalist Bloom's theory that evil-which manifests in violence, destructiveness and war-is woven into our biological fabric. A corollary is that evil is a by-product of nature's strategy to move the world to greater heights of organization and power as national or religious groups follow ideologies that trigger lofty ideals as well as base cruelty. In an ambitious, often provocative study, Bloom applies the ideas of sociobiology, ethology and the "killer ape" school of anthropology to the broad canvas of history, with examples ranging from Oliver Cromwell's reputed pleasure in killing and raping to Mao Tse-tung's bloody Cultural Revolution, India's caste system and Islamic fundamentalist expansion. Bloom says Americans suffer "perceptual shutdown" that blinds them to the United States' downward slide in the pecking order of nations. His use of concepts like pecking order, memes (self-replicating clusters of ideas), the "neural net" or group mind of the social "superorganism" seem more like metaphors than explanatory tools.
Copyright 1994 Reed Business Information, Inc. --This text refers to an out of print or unavailable edition of this title.
This should be required reading...
From Publishers Weekly
According to this classic of revisionist American history, narratives of national unity and progress are a smoke screen disguising the ceaseless conflict between elites and the masses whom they oppress and exploit. Historian Zinn sides with the latter group in chronicling Indians' struggle against Europeans, blacks' struggle against racism, women's struggle against patriarchy, and workers' struggle against capitalists. First published in 1980, the volume sums up decades of post-war scholarship into a definitive statement of leftist, multicultural, anti-imperialist historiography. This edition updates that project with new chapters on the Clinton and Bush presidencies, which deplore Clinton's pro-business agenda, celebrate the 1999 Seattle anti-globalization protests and apologize for previous editions' slighting of the struggles of Latinos and gays. Zinn's work is an vital corrective to triumphalist accounts, but his uncompromising radicalism shades, at times, into cynicism. Zinn views the Bill of Rights, universal suffrage, affirmative action and collective bargaining not as fundamental (albeit imperfect) extensions of freedom, but as tactical concessions by monied elites to defuse and contain more revolutionary impulses; voting, in fact, is but the most insidious of the "controls." It's too bad that Zinn dismisses two centuries of talk about "patriotism, democracy, national interest" as mere "slogans" and "pretense," because the history he recounts is in large part the effort of downtrodden people to claim these ideals for their own.
Copyright 2003 Reed Business Information, Inc.
This was a pretty fascinating read as well...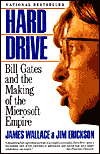 From Publishers Weekly
In a biting biography and computer-industry expose, two Seattle Post-Intelligencer journalists here relate in dramatic detail how a moody, computer-dazzled prep-school whiz kid, a Harvard dropout at age 19, formed his own company, now Microsoft Inc., with a few friends. They developed and marketed in aggressive style a series of personal-computer software applications and operating systems, the phenomenal sales of which by some accounts have made 37-year-old William H. Gates Jr. the richest person in America. Alternately cooperating and competing with industry giants Apple, Xerox and IBM, "Chairman Bill" worked 20-hour days in Levis and loafers and relaxed by driving his Mercedes at speeds up to 150 mph, as Microsoft set industry standards in desktop-computer languages and programs. Driven and hard-driving, Gates has engendered admiration, envy, imitation, complaints of unfairness and an FTC investigation. $60,000 ad/promo; author tour.
Copyright 1992 Reed Business Information, Inc. --This text refers to an out of print or unavailable edition of this title.